Graphic Design and Marketing: Understanding the Integration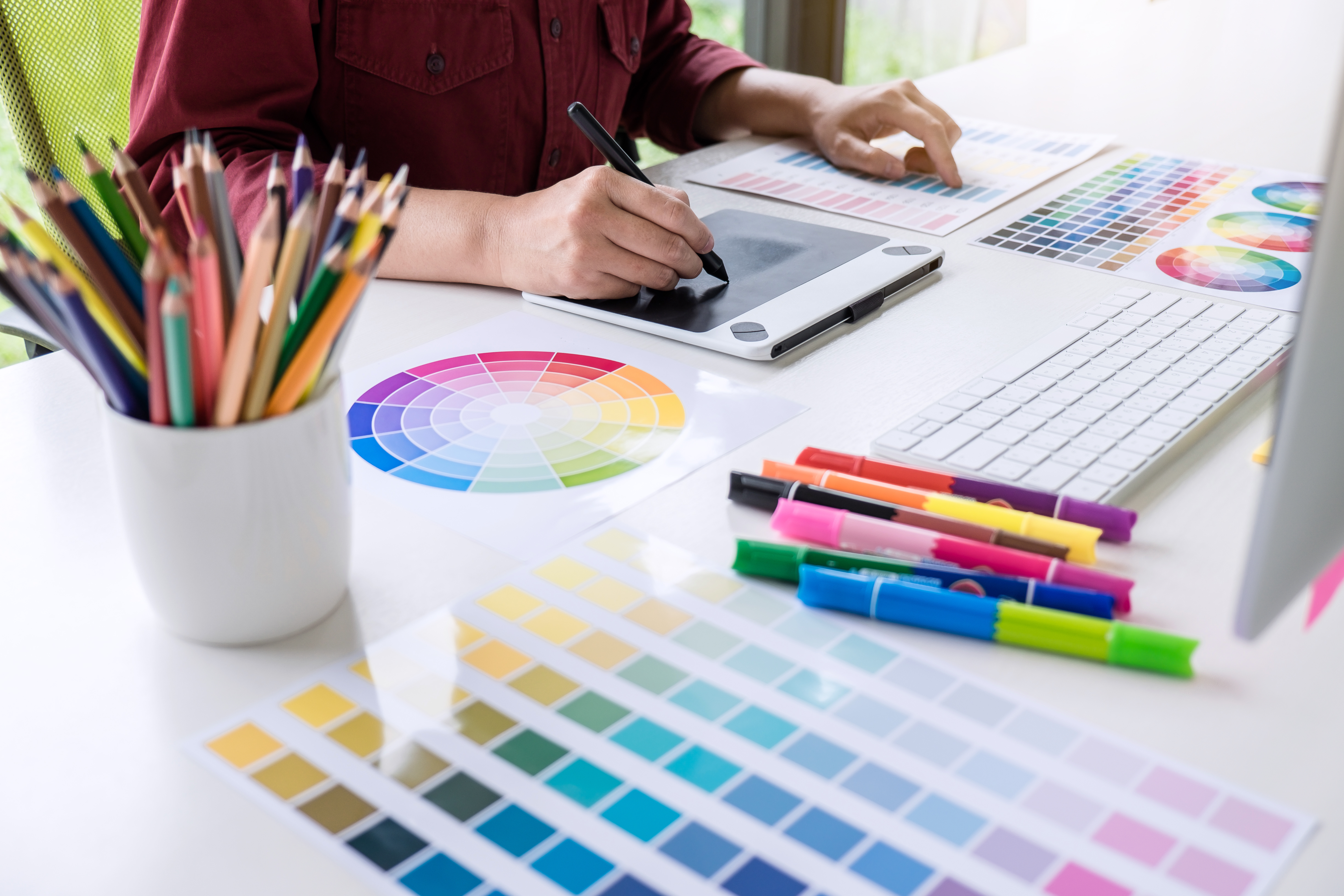 When you can't take your eyes off of something, you know someone's done a great job creating it.
It might be that neat looking shirt that made you do a double-take. It could be that super sleek vacuum cleaner that's $100 more expensive than one that does the same thing, but look how cool it is!
It could be that really good-looking person in line at the bank. Kudos to their parents.
A huge part of marketing a business is just making it look great. It sounds easy.
It's not.
Graphic design and marketing
The importance of graphic design in marketing is no secret. Great graphic design has the ability to boost the recognition of your company forever, just as poor graphic design can land your company in a black hole for eternity.
But now that you're here, reading this, you don't have to worry about those black holes.
This article will go over a few different forms of marketing materials and how their designs can make an impact – for better or for worse.
Business card designs
It doesn't matter if your business is comprised of 1,000 people or just you, online or brick-and-mortar; provides a service or sells a product. Business cards provide incredible marketing value no matter what.
For companies big and small, these little cards can be handed to potential leads and clients, left on windshields of parked cars, slipped into books at the library, pinned to corkboards at your local coffee shop, or left in shops that are relevant to what you and your business provide for your audience.
A little card can make a big difference.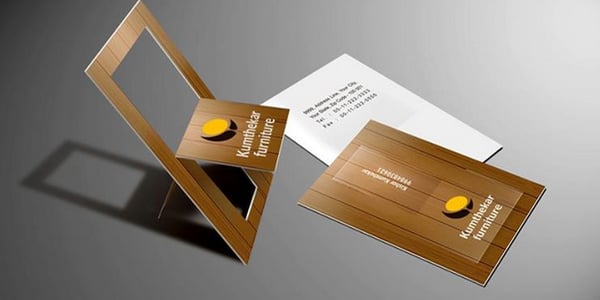 There are a lot of ways to make an impressive business card. Business cards are an extension of you and your brand identity. If your brand is awesome, your business card better be awesome, too.
Ad designs
It's easy to draw eyes to movement in an advertisement. But what if the ad doesn't move at all?
Printed or digital, some ads simply don't involve physical motion. Just like in the good ol' days, advertisements like these have one message, one image, and that's it. How can you draw the audience to a stagnant ad?
With a great ad design, of course!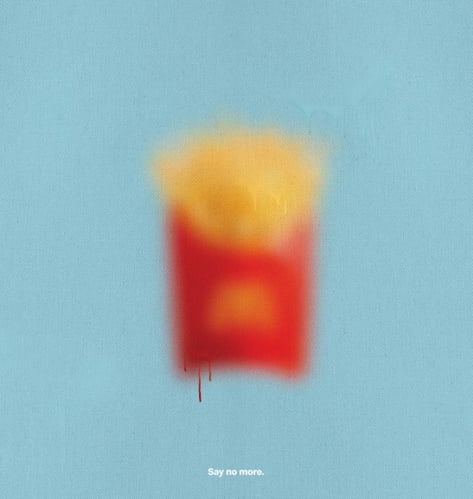 Ads are everywhere all the time, and it turns out we don't actually absorb most of them. If you're a graphic designer, it's your job to make sure that the advertisement you design is memorable.
Billboard designs
Can you think of a marketing and advertising material that has been steadily effective for 152 years?
Billboard rentals were first recorded in 1867, and even in the digital age, they've managed to stay completely relevant and proven to be the only form of traditional advertising that's still on the move.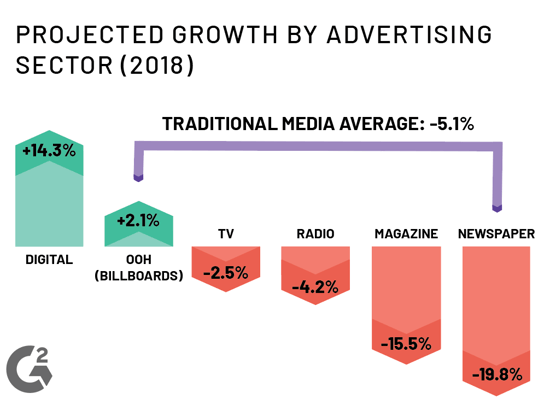 People drive by endless amounts of billboards every day. They have about six seconds to absorb the brand's image and message. You'll have a ton of space as a designer, but billboard design is no walk in the park. Unlike smaller forms of print advertising and marketing, a billboard cannot be held in someone's hands, and it's not likely that someone will pull over to read everything you have to say.
So when you're plotting out your billboard design, be mindful of the space and time that you really have to make an impression. Use your words, your graphics, and your colors wisely.
It's important not to go overboard with your billboard. Don't try to create traffic in the streets, just create traffic for your business.
Cringey, but it gets the idea across, doesn't it?
Brochure design
You've probably collected a million brochures over the years, and I bet the majority were forcefully handed to you. When's the last time anyone picked a brochure up by choice? How can a designer help encourage that action?
Typically, brochures are designed as a trifold piece of paper, sometimes with a little too much information packed into them (and not a ton of color).
Not worthy of anyone's attention.
We judge books by their covers – even though we were taught to think differently in kindergarten.
When you're working on a brochure design, you have to remember that. You're designing the inside and the cover of a very small book, and its content has to be read if you want your client to succeed.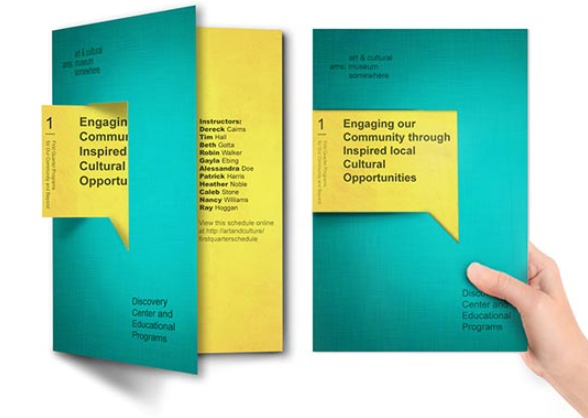 Great color choices and an interesting design will make a passersby wonder, "What on Earth is that brochure all about?"
And that's exactly what you want.
Infographic design
If you think infographics aren't marketing materials…you're wrong.
Infographics can be used to better explain what your brand does for the world, prove the impact you're making in an industry, explain the services you offer, and enhance other marketing materials.
Infographics can be incredibly helpful when it comes to attempting to simplify complex information and data – if they're designed the right way.
Infographic design is key if you want your someone to understand what you're trying to communicate to them. It can broaden your audience farther than the eye can see, but it has to be done well.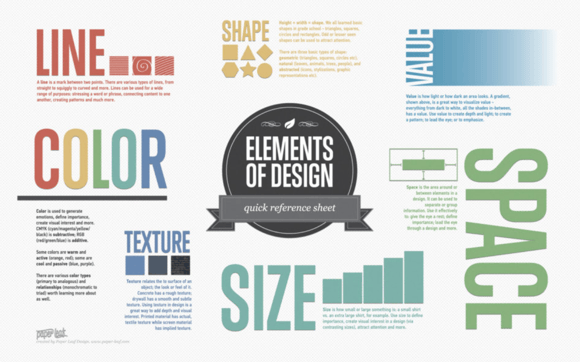 Infographics are both information and graphics, and therefore must include both of these things.
While doing this, infographics also need to be concise, easy to follow, and interesting to look at. No easy task.
Packaging design
Believe it or not, packaging design is an enormous part of marketing a brand. People in stores walk by packaging designs on shelves, and people shopping online scroll through packaging designs every day.
With every product being packaged, it's difficult to make yours stand out. It's going to be tempting to go above and beyond, but there are a few rules of packaging design that should always be followed before you make any extreme choices.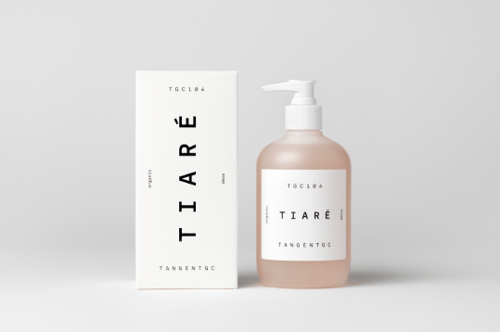 The three most important factors to keep in mind are: the customer, the product, and the brand that the product comes from. The customer is who the package is for; the product is what the package covers; and the brand is what the package represents.
As long as these fundamentals are in the back of your mind while you're designing, you'll be off to a great start.
Graphic design is the major key
The importance of marketing materials (and using the best digital asset management tools to organize them) is undeniable when it comes to the success of your business – big and small. The above materials, from business cards to billboards, can't hurt to invest in – unless they're poorly designed.
Good thing we've given you everything you'll ever need to avoid that.